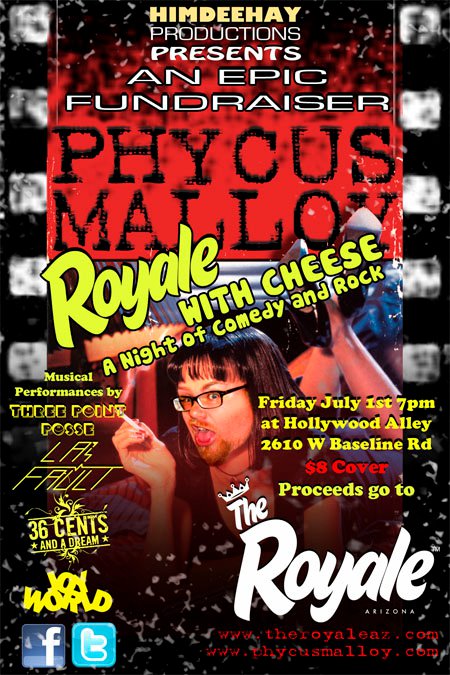 Himdeehay Productions is proud to present a Fundraiser of epic proportions.
Get ready to put on your rubber pants and have a wild night of Laughs and Stereophonics that will bring tears of joy to your colon(and you didn't know that was possible, did you?).
ONLY AN $8 COVER WITH PROCEEDS GOING TO THE ROYALE THEATER IN MESA, AZ!!!!
You'll laugh, you'll cry, you'll spit blood!!!
KILLER LINEUP FEATURING:
Three Point Posse
LA'S Fault
36 Cents and A Dream
Joy World Entertainment Company
Good Times will be had. Get there early to reserve a seat and throw a couple drinks back before the show!!!
DISCLAIMER: THIS SHOW MAY BE UNSUITABLE FOR PEOPLE WITH NO SENSE OF HUMOR, GENITAL WARTS AND TUBERCULOSIS.
COME SUPPORT LOCAL ARTS AND ENTERTAINMENT!!!!
visit phycusmalloy.com for more info!