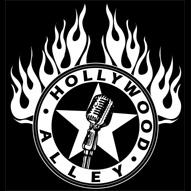 Hollywood Alley is a 21+ venue in Mesa that has been doing live music for over 20 years and has hosted shows for a number of touring underground rock bands …too many to name (but fond memories recall The Verve, Brian Jonestown Massacre, Sweet, Rocket From The Crypt, Big Drill Car, Apples In Stereo, Street Walkin' Cheetahs, Bellrays, Nomads, Laughing Hyenas, Syl Sylvain, Supagroup, Sonny Vincent, Dead Moon, Jay Reatard, Easy Action, Dixie Witch, Greg Sage & The Wipers, Floater, Velocity Girl, Poster Children, Alabama Thunderpussy, Naked Aggression, Melt Banana, Hemi Cuda, Neil Hamburger, Public Enemy, Ghostland Observatory, The Lazy Cowgirls, NoMeansNo, The Makers, High On Fire, Lydia Lunch, Jeff Dahl Group, Electric Frankenstein, Girl In A Coma, The Action Design, Floater, TheSTART, JFA, Boss Martians, and I am sure I am forgetting a few dozen more).  Hollywood Alley also hosted the SHoD IV festival in 2002, 2006, and 2007.
We have the best and loudest PA for any 200-250 range venue in Arizona.
We are a full service bar that is open at 6am for the graveyard shifters and is kept open for a their lunch and happy hour attendees. The Alley also boasts about a dozen or so TVs so television, sports, and bad films on VHS are a daily activity.
We also have a nifty retro game room with a lot of your favorite pinball and arcade games from the 80s.
Once 8pm rolls around, The 'Alley transforms itself into one of the longest running and best reputable rock n roll venues within Metro Phoenix (20 years and running!). And most importantly, we are family owned (not corporate). We are owned and operated by three generations of a family that can been seen working day and night, 7 days a week.
Directions: Hollywood Alley is located at 2610 West Baseline in Mesa, AZ which is 1/8 mile east of the Loop 101 and the Tempe border. Here's a Mapquest link. Or you can check the map to Hollywood Alley for directions.