January 30th, 2012 · Comments Off

on 02/04/12: Mill's End/The Worrymen/The Meat Department

· Events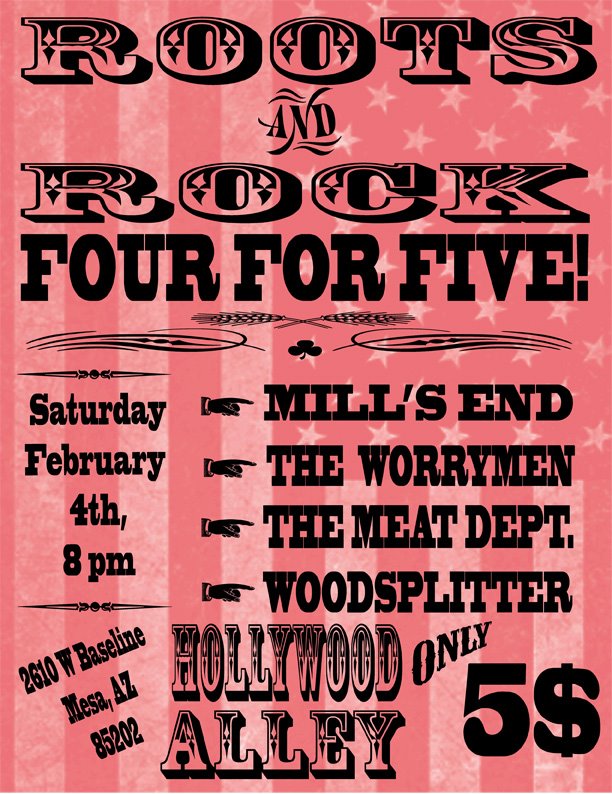 10pm: The Meat Department (Anti-folk/Comedy)
11pm: The Worrymen (Roots Rock/Americana)
Midnight: Mill's End (Americana/Folk-Rock)
(Woodsplitter: Cancelled)

$5, 21+

RSVP on Facebook!
Tags: Mill's End·The Meat Department·The Worrymen
February 4th, 2011 · Comments Off

on What's Rocking This Weekend at Hollywood Alley

· Events
FRiday Feb 4th and Saturday Feb 5th. Both shows 9pm start with $5.00, 21+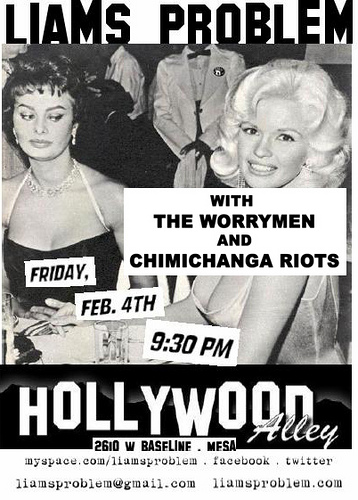 Tags: Chimichanga Riots·Good Bipolars·Liam's Problem·Paper Planes·Tender Mercyes·The Worrymen
January 20th, 2010 · Comments Off

on NEW SHOW ALERT: 02/19/10 – Former Friends Of Young Americans/The Worrymen/The Olympic Whites/Mill's End

· Uncategorized

Former Friends of Young Americans="A warm hug from somebody holding a sharp object"
Tags: Former Friends Of Young Americans·Mill's End·The Olympic Whites·The Worrymen