January 19th, 2011 · Comments Off

on Special Saturday Afternoon Show at Hollywood Alley

· Events
SUNDOWN SHOWDOWN 3: DAY 2 @ HOLLYWOOD ALLEY
01/22/11 @ 7pm @ Hollywood Alley
with Dj Ryan Wong, Sexual Slurs, Cosmeticators, Robot Tank, Female Trouble, The Pods

Visit AZPunk.com for more info
Tags: Cosmeticators·DJ Ryan Wong·Female Trouble·Pods·Robot Tank·Sexual Slurs
October 17th, 2010 · Comments Off

on New Show Alert! 10/24/10: THE SEX SLAVES (NYC) w/ Adam's Evil, The Relics, Female Trouble, William Leadpistol, 9th Street Shakedown

· Events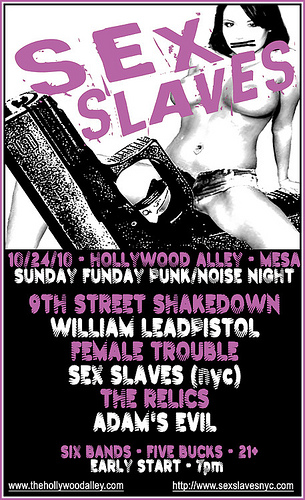 Born out of the gutter and raised on a deserted street corner in the Lower East Side of New York City,
SEX SLAVES sound like they've just awoken from an all-night binge of booze, cigarettes, and cheap sex.
There hasn't been one slimy dive in this whole wretched world that hasn't been given a sleaze-pop
makeover, and a hefty dose of sass by these three street walkin' cheetahs.


Tags: 9th Street Shakedown·Adam's Evil·Female Trouble·Sex Slaves·The Relics·William Leadpistol
September 15th, 2010 · Comments Off

on NEW SHOW ALERT! 09/18/10: Female Trouble/Vinyl.45/The Earps/Page The Village Idiot

· Events
Both The Earps and Vinyl.45 are debuting new bass players. How exciting!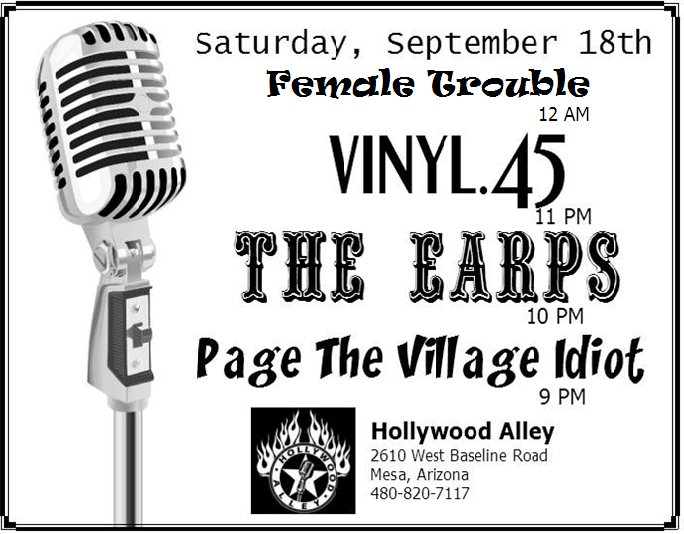 Tags: Female Trouble·Page The Village Idiot·The Earps·Vinyl.45